Skip to Content
Bluetooth / Smart Device Integration
i-Simple iS77: Pac-Audio Cable
The iS77 is designed to provide the connecting link between your choice of audio (iPod, mp3 player, smartphone, etc.) and your FM radio. This interface has a universal input that will accept an audio signal from any source with a standard 3.5mm "Headphone" output. The iS77 will stream the audio from your device through your factory or aftermarket radio. If your choice of audio is an iPod, iPad or iPhone, this interface will also charge the iPod's battery, when connected.
** With the iS77 you have the option of either the headphone output or the iPod/iPhone/iPad cable, you CAN NOT do both with this universal piece **
If you would like both please, refer to the below options.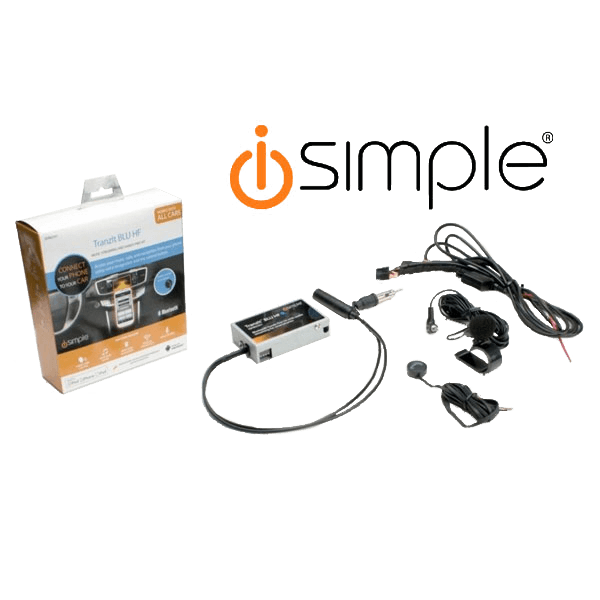 Mobile Phone Integration for Any Vehicle
TRANZIT BLU HF ISFM2351
With the Universal Tranzit BLU HF — Using Bluetooth technology and your Smartphone's Voice Recognition application (Siri or Google Now) you can launch navigation, music streaming, or any other application. This device is installed behind the dash and is compatible with any car.
Vehicle Specific Adaptors
This is an iPod/Aux Interface which connects an iPod/iPad/iPhone directly to the factory radio. The parts used for the installation are hard-wired into the radio and allow you to utilize both the 3.5mm "Headphone" output as well as the iPod cable. Some of the features include: Track-selection which can be controlled from the radio, as well as rewind and fast-forward. The interface also provides digital-quality sound and charges the iPod while in use.
Verify the application for your car here.